Last year at the New Schools Venture Fund meeting, while I was visiting the d-school at Stanford, Bob Lenz from Envision Schools went to Facebook. When I saw Bob afterwards, he said, "These companies are desperate for people who can code. They are starting people with coding skills at $100k per year. Shouldn't our students learn to do this?" It sure seemed like it to me.
It's not just an economic argument, of course. While almost everyone knows how to consume content off of computers, not that many are learning how to make the computer do what they want. Producing with technology is key.
So I love these new videos from code.org.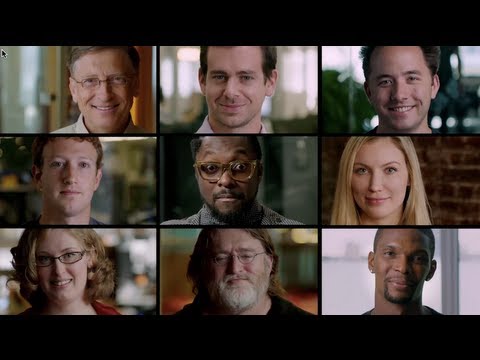 A few folks have asked me for some resources on how to learn to code and how to help students learn to code. Here are a few of my favorites right now.
1. Turtle Art
If you are my age, you may remember learning logo on an Apple II+ computer. Turns out there are several more modern versions of Logo, and one of them, focused on helped kids make art while learning programming, is called Turtle Art. You can download Turtle Art here. There are some slides to give you ideas here (hat tip to the Learning Creative Learning course at MIT Media Lab).
I thought a cool project might be to have kids recreate famous paintings. I spent 15 minutes on Van Gogh's The Starry Night. My version uses a variable (box1) and a function (star), and creates stars of random color, size, and location.
2. App Inventor
Stepping up in complexity, but also using drag and drop components is MIT's App Inventor. With App Inventor, you can create apps for your android phone or tablet. I completed a bunch of the tutorials here. I see they have put up a more teacher/student friendly curriculum here. You can download my snazzy Jeff Robin app here.
3. Scratch
I have spent less time playing around with Scratch, but it also seems like a useful tool for working with students. The purpose of scratch is to encourage teenagers to create stories, games, music, and art. You can read an 8 page description from Mitch Resnick on the ideas behind Scratch here.
4. Learn to create a search engine from Udacity
Last spring, I completed the CS101: Learn to create a search engine course at Udacity. I also worked with a dozen students from High Tech High International during their x block. Due to various factors (immersion trip, immersion trip preparation, parent-teacher conferences), we only met as a group about three times. Two students were able to largely complete the course on their own. Other students would have needed more support than our 3-45 minute meetings. Still, although not perfect, I think there is something interesting happening with Udacity.
Happy coding!
Permalink Comments off